40 x 22 Window Well Cover
40" x 22" Custom-made GE Lexan window well cover.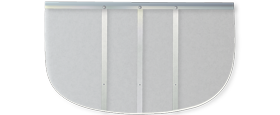 Base price for variant
$79.99
Description
Cover-Rite's basement window well covers are made from the highest quality GE Lexan material that is capable of supporting over 500lbs, even in sub-zero climates. Each window well cover is custom-made to ensure a perfect fit for any size or shape window well. All window well covers come with a life-time guarantee! Add security, a finished look to your yard and energy savings with our custom window well covers! Please click here for easy measuring instructions. The sizes listed in our store, only reflect standard sizes. If you do not see your size listed, please click here for a free estimate.
Units in box: 1